What is a Conductor?
Understanding what a conductor is and how it functions is vital to comprehend many aspects of modern life, including electricity, thermal management, and electronics. Conductors facilitate the flow of electrons and heat in various applications, while insulators impede these movements. Due to their unique properties and availability, copper, silver, and aluminum are good conductors of electricity. As a result, they are among the most commonly used conductor materials because they allow electricity to flow. Factors affecting conductivity include atomic structure, temperature, and material purity.
Conductors are an integral part of our daily lives, enabling the functioning of various devices and systems we depend on, such as electrical wiring and electronic devices. In contrast, thermal conductors facilitate heat transfer in numerous applications, from car engines to cookware. In addition, the unique category of semiconductors illustrates that a material can possess both conductive and insulative properties, paving the way for the development of advanced technologies like transistors and solar cells.

The Role of Conductors in Electricity
A conductor plays an essential role in the world of electricity. It enables the movement of electrons within a material, allowing electrical charge to flow smoothly through an electrical circuit. Electrical conductors consist of atoms that have loosely bound electrons, which are free to move and generate a current when an electric field is applied. This phenomenon is the basis for the flow of electrons in many electrical devices and systems.
Conductors and Insulators: The Key Differences
The primary difference between conductors and insulators lies in their ability to conduct electricity. While conductors allow the flow of electrons, insulators impede this flow due to their tightly bound electrons. Consequently, insulators prevent electric shock or maintain electrical charge within specific boundaries. Good insulators include rubber, plastic, and glass.
Common Conductor Materials
The most commonly used materials for electrical conductors include copper, silver, and aluminum. Copper conductors are often preferred due to their excellent conductivity, relatively low cost, and high availability. Silver possesses the highest conductivity but is more expensive and less abundant. Aluminum is lightweight and affordable, making it an attractive choice for various applications such as power lines.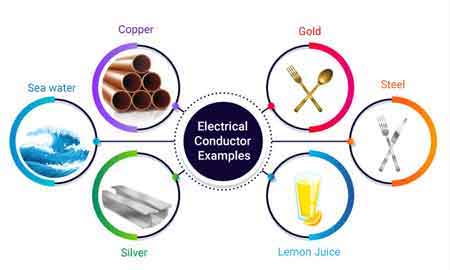 Factors Affecting Conductivity
The conductivity of a material depends on several factors, including its atomic structure, temperature, and purity. Materials with more free electrons or a regular atomic arrangement are more conducive. Temperature can also influence conductivity, as higher temperatures may cause the atoms in a material to vibrate more, leading to increased resistance. Purity is another essential factor, as impurities can impede the flow of electrons, reducing conductivity.
Applications of Conductors in Everyday Life
Conductors play a vital role in our daily lives, providing the foundation for many devices and systems that rely on the movement of electrons. Some notable examples include electrical wiring, power lines, and electronic devices such as computers and smartphones. Additionally, conductors are used in protective gear like fire-resistant clothing, which incorporates metal fibers to dissipate heat from the body.
Thermal Conductors: Function and Use
Thermal conductors allow heat to flow through them, effectively conducting heat from one area to another. This process is essential in many applications, such as in car engines, where conductors help dissipate heat away from the engine to prevent overheating. Thermal conductors are also found in household items like pots and pans, where heat must be transferred evenly for efficient cooking.
Can a Material be Both a Conductor and an Insulator?
In some cases, the material can exhibit both conductive and insulative properties. These materials are known as semiconductors, which possess a conductivity level between conductors and insulators. Silicon and germanium are two common examples of semiconductors. Semiconductors have applications in numerous electronic devices, such as transistors and solar cells, which can regulate electrical current and convert sunlight into electricity.
As our understanding of conductors and their properties expands, we expect to see further innovations and improvements in the materials used in these essential components. For example, new conductor materials and composites could potentially be developed, offering better performance, higher efficiency, or enhanced durability. These advancements will contribute to creating even more sophisticated technologies and further improve the quality of our everyday lives.