Building automation describes the advanced functionality provided by the control system of green buildings. In a smart building automation system, a user interface provides facility managers, who are responsible for building operations, with centralized control over a number of energy efficient functions: indoor air quality, air conditioning hvac system, and heating ventilation, temperature humidity, and other functions that reduce energy and improve energy consumption. The building automation system also integrates the security system and various other bas controls.
A Building Automation Systems (BAS), at their core, is:
Occupancy schedule
Monitors system performance device failures
Provides email and/or text notifications .
BAS is often referred to as an intelligent building system or a Smart home.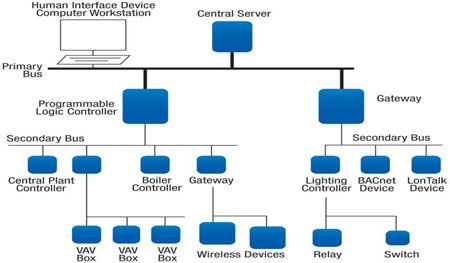 Networks
PRIMARY & SECONDARY BUS
Examples--BACnet, optical fiber, ethernet, ARCNET, RS-232,RS-485 or a wireless network
PROGRAMMABLE LOGIC CONTROLLERS
Examples—Zig Bee
INPUT/OUTPUT DEVICES &USER CONTROLLERS
Examples--analog or digital humidity and pressure sensortherlatinum resistance thermometer

Controllers
Programmable Logic Controllers (PLCs)
PLC's provide the most responsiveness and processing power
System/Network controllers
System/Network controllers may be applied to control one or more mechanical systems such as an Air Handler Unit (AHU), boiler, chiller, etc.
Terminal Unit controllers.
Terminal Unit controllers usually are suited for control of lighting and/or simpler devices such as a package rooftop unit, heat pump, VAV box.
Building Electrical System Riser Diagram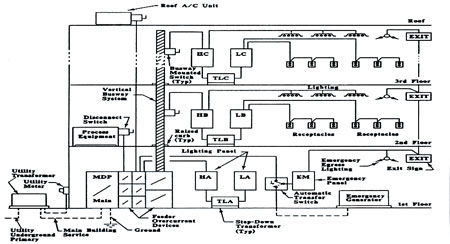 Air Handlers
Most air handlers mix return and outside air so less temperature change is needed.
Analog or digital temperature sensors may be placed in the space or room, the return and supply air ducts, and sometimes the external air.
Actuators are placed on the hot and chilled water valves, the outside air and return air dampers.
The supply fan (and return if applicable) is started and stopped based on either time of day, temperatures, building pressures or a combination.
The less efficient type of air-handler is a "constant volume air handling unit," or CAV.
CAVs open and close dampers .
They heat or cool the spaces by opening or closing chilled or hot water valves that feed their internal heat exchangers.
Generally one CAV serves several spaces.
A more efficient unit is a "variable air volume (VAV) air-handling unit," or VAV.
A VAV air handler can change the pressure to the VAV boxes by changing the speed of a fan or blower with a variable frequency drive
Each VAV box supply air to a small space, like an office. Each box has a damper that is opened or closed based on how much heating or cooling is required in its space.