This 2-Day Emergency Generator/Standby Power and UPS System training course is designed to assist organizations to identify the many savings to be gained from proper UPS system design.
From portable electrical generators to standby power cogeneration units - from the facility manager to the maintenance technician - this backup power generation course is designed for anyone involved with electrical generation equipment in their plant or facility.
In today's industrial, commercial and institutional power systems environment, nothing can be taken for granted. Severe weather can cause power outages for a few seconds or several days. Explosions and fire can sever lines to your facility. Sometimes we simply experience blackouts because the utility power grid is overloaded and blackouts occur. Critical power situations demand 100 per cent power, 100 per cent of the time. Whatever the cause, lack of electricity at your facility can be devastating, whether you are responsible for a power system at a hospital, a treatment plant providing water for your community, or a banking or telecommunications network facility which must remain deliver a service uninterrupted.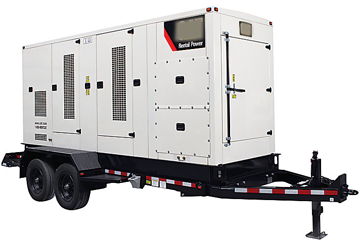 During this course, you will learn what you can do, and should do with standby electrical generators and emergency power generation systems, to make sure your facility will keep running even if the electricity to your plant or facility doesn't.
The UPS Systems part of the course begins with a discussion of the need for UPS systems. It then covers the relative comparisons between various UPS topologies and their modes of operation. The batteries used for UPS systems are also covered How a battery works, their maintenance, safety and testing is throughly discussed.
A solid working knowledge of the typical electrical and electronic components found within a UPS system is explained, as well as how AC is converted to DC and then inverting DC back to AC. When all of the above elements of a UPS are understood, a theoretical rectifier and inverter feedback loop are throughly discussed. This will be followed by a testing and troubleshooting section. Students will be given failure scenarios where they will learn how to determine which circuit component has opened, shorted or significantly changed in value to produce the alarm condition described. The course finishes with a general discussion on UPS system testing and maintenance procedures.
This two-day Electric Generators and UPS system training course is designed to assist organizations to identify the many savings to be gained from proper UPS system design, application, testing and maintenance..
WHAT YOU WILL LEARN
Specific requirements and recommendations for the installation, operation and maintenance of backup power generation equipment Where to find critical information from professional sources such as the EGSA, IEEE, NFPA, NECA and NETA.
What backup system and emergency plan is best suited for your critical power system.
How to read and understand vendor drawings and technical information for generators.
How and when to successfully test onsite electrical generator equipment.
How to work with parallel energy sources Synchronizing procedures and load sharing.
How to troubleshoot using a logical, systematic approach to isolate and repair generator problems
After completion of this course, the participant will understand:
The various Emergency and Backup Generator, sizing, installation and maintenance
Different types of Primary Engines and Turbines
Governor Control System
Automatic Voltage Regulation System
Protection requirements
Alarms and shutdown condition
Common Parameter Monitoring
Testing Requirements-IEEE 282
Service Literature and Software commonly used
Understand the functionality of different UPS Type
Size the UPS and battery bank for an application
Recommend solution for a practical implementation
Perform Maintenance and Parameter settings on a UPS
Perform Battery maintenance and results interpretation
Design a complete UPS System and recommend the proper grounding solution
WHO should attend
This course is designed for anyone involved with emergency onsite power generation systems or working in any facility where an emergency power supply is absolutely critical! In this seminar, students are invited to attend from a wide variety of industries, skill-levels, company sizes, and backgrounds. If you're not sure you'll fit in, or will benefit from this class, don't worry - you will - as long as you have an interest in onsite power generators or UPS systems! Students who will benefit from this course include:
All Electrical Maintenance Personnel in:
Industrial Facilities and Manufacturing Plants
Government Buildings
Telecommunications and Banking Systems
ISPs
Commercial Office Buildings
Hospitals and Critical Medical Facilities
Waste Water Facilities
Water Treatment Facilities
Airports
Pharmaceutical Labs
Colleges and Universities
Including:
Plant Electrical Engineers
Electrical Maintenance Managers
Electrical Maintenance Technicians
Facility/Plant Managers
Consulting Electrical Engineers
Emergency Preparedness Compliance Officers
Building Engineers
Multi-craft & Cross Training Personnel
Any personnel needing a basic course in emergency power and standby electrical generators
Students receive
100-Page Generator UPS Handbook - Value $20
1.4 Continuing Education Unit (CEU) Credits
A FREE Magazine Subscription (Value $25)
$100 Coupon Toward Any Future Electricity Forum Event (Restrictions Apply)
Course Materials In Paper Format